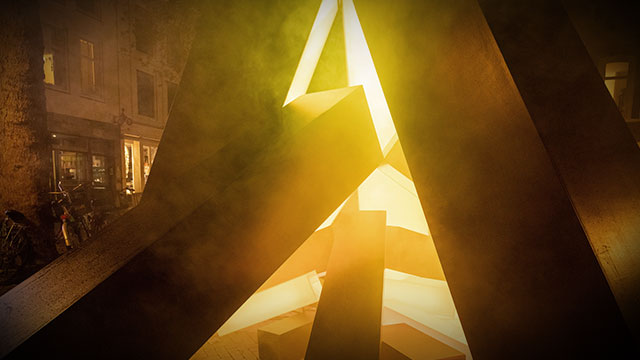 Bonfire
Bonfire is a three meter high interactive light sculpture. It was created for the celebration of the 900 year anniversary of the city of Utrecht. The event uses the theme "Utrecht, city without walls", to emphasize the open and welcoming nature of the city, and we created Bonfire to symbolize this.
We see sitting around a campfire with friends or strangers as a universal human experience that bring people together. Nearly everyone has positive memories of sitting around the fire, staring into the flames and feeling the sense of community and togetherness that it creates. It's a shared experience that transcends cultures, and has been experienced by us since prehistoric times. Bonfire symbolizes this feeling with its warm glow, which gets brighter and brighter as more people are gathered around the installation.
Bonfire is currently shining brightly on the Mariaplaats in Utrecht, from November 5th until the 11th, when it will be part of the Sint-Maarten's celebrations that mark the end of Utrecht 900. From January 6th it will be part of the I Light U festival in Utrecht.