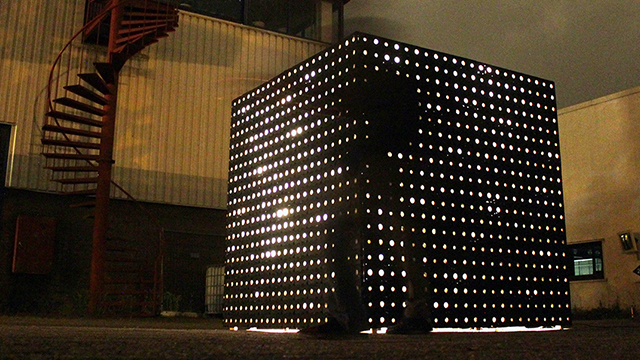 Videoart
I once got the whole collection of videotapes from my old job at the videostore. The owner wanted to throw them away, so I said: 'I want them, there must be something cool to do with it'. As a result they where stacked up for years in our workshop, waiting for a moment we could use it.
For the second edition of the Sneeuw & Ruis festival we got asked if we could do 'Something visual'. The festival is about experimental music and art. It was obvious this was the moment we should use the tapes, perfectly matching the glitch and noise theme of the festival.
We build two installations. One was a big cube made out of videotapes, 220cm x 220cm, functioning as a light beacon on the route between the different performing area's. And the other was an interactive projection where a Kinect camera was aimed at the musician or public, the input got a glitch filter and was projected on a screen made out of videotape.
The festival took place on the 13th of June 2015, at the VechtclubXL in Utrecht. More info about the festival can be found at their website, or at their Facebookpage.