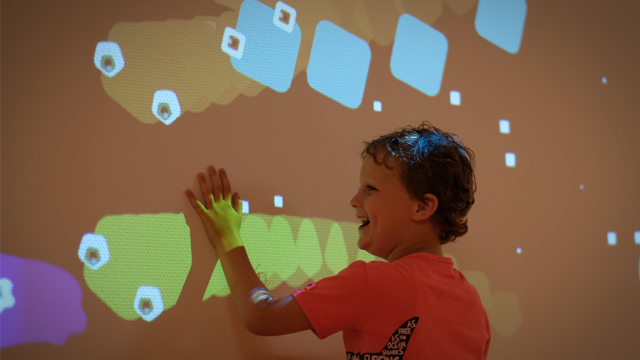 The Maxies (2018)
Design studio DieTwee asked us to collaborate with them on realising an interactive experience in a long hallway in the new Prinses Máxima Centre children's oncoly hospital in Utrecht, the Netherlands. Together with them we created a permanent interactive projection wall that's populated by friendly creatures called Maxies.
The curious Maxies come into view when kids walks through the hallway.  They follow the children around and if they stop they will play with them, flying in circles around them on the wall. This gives the children some friendly interactions and a fun distraction at a time when they might be nervous, worried or feeling very ill as they walk from one part of the hospital to another.
The interactive wall also functions as a way to thank and honor some of the many generous donors that helped make this new children's hospital a reality. When the Maxies are done playing with someone they leave the wall again, leaving behind a trail of bubbles containing the names of the donors, which slowly drift away.