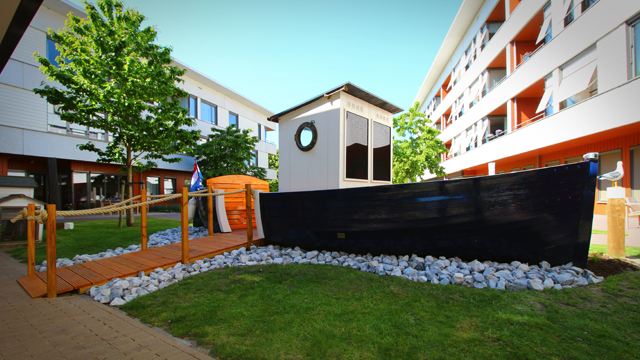 Quo Vadis (2019)
Quo Vadis is an interactive boat that serves as the centerpiece of the inner garden of the Nieuw Rijsenburgh retirement home. Quo Vadis provides a multi-sensory interactive experience for residents of the home, many of whom suffer from dementia. We created the interactive boat because Nieuw Rijsenburgh is located on the island of Goeree-Overflakkee, and many of its' residents spent their younger years working on the water or in the harbour, and we wanted to create familiar sensory experiences for the residents.
In the wheelhouse of the boat residents look out over a calm sea with seagulls flying through the air. They can use the wheel to steer the boat and watch the physical compass match the new course. The wheelhouse is filled with the familiar sounds of the wooden boat creaking, the engine chugging along, the waves lapping against the boat and the seagulls calling. A vintage radio provides multiple channels of well-known Dutch fisherman's songs and sea shanties from residents' youths to stir their memories. Research has shown that engaging dementia patients with familiar sensory experiences can reconnect them to old memories and activate parts of the brain not affected by their disease. Music therapy for example, using familiar old songs, has shown to greatly increase quality of life for many patients, making them more active and engaged, and decreasing behavioural problems.
On the deck of the boat there is also a large comfy place to sit for less mobile residents or for when they just want to sit and enjoy the sun and listen to the music and sounds from the wheelhouse.